Library Services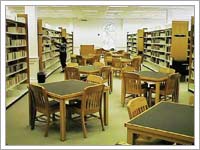 Free Wi-Fi with valid PINES library card.
Outstanding Reference Service by phone or in person
A collection of over 139,000 volumes of books, audio cassettes, audio CDs,video cassettes, DVDs, and periodicals
Free access to the Internet and word processing
Educational Learning Lab
Learn more about the services offered through the Fayette County Public Library:
PINES Library Catalog
Member of PINES
(Public Information Network for Electronic Services)
Patrons can use the Internet to search catalogs of the Fayette County Public Library and over 280 PINES libraries in Georgia using the following address:
http://gapines.org/
Patrons can use their PINES library card to borrow materials from all PINES libraries in Georgia and can return materials to any PINES library.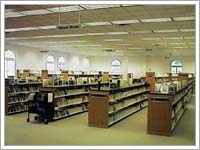 GALILEO Databases
Utilizing GALILEO patrons can search over 100 databases for full-text articles in newspapers, trade journals, magazines, and scholarly journals
Patrons can search for book reviews, reader's advisory information, current news about corporations, health information, college catalogs, world-wide library catalog search, and other research topics in all subject areas
Bring your PINES library card to the circulation desk for your password to access GALILEO on your home Internet computer.
Genealogy Resources
We have microfilm copies of the Federal Census for Georgia from 1830 to 1930 and associated indexes. Patrons can also use Ancestry Library Edition, powered by Ancestry.com , (available only on the Internet computers in our library and other Georgia libraries) and Heritage Quest Online on our Internet computers. (You'll need your PINES card to use them). Ancestry Library Edition has about 4,000 databases, including U.S. Federal Census images and indexes from 1790 to 1930, the; Social Security Death Index, Federal Slave Narratives, and a strong Civil War collection. Heritage Quest Online, which is available online to any Georgia resident with a computer and a PINES card and its associated password (ask us for details), has the Federal Census from 1790-1930, over 23,000 family and local histories; PERSI, which includes 2.1 million genealogy and local history articles and Freedman's Bank (1865-1874), founded to serve African Americans.
The Fayette County Georgia Heritage Book features genealogy information on over 400 Fayette County families. Two copies are available for use in the library. The History of Fayette County also includes some genealogy information. Copies of this book are available to check out and to use in the library.
We also have the Georgia Death Record Indexes for 1919-1998, and Fayette County records on microfilm, including deeds, tax digests, marriages, pension records, and estate records from 1823-1911. We have miscellaneous Fayetteville and Fayette County, GA newspapers from May, 1845 to December, 1999 on microfilm, too. (Not all years are covered).
Periodic genealogy workshops are taught by a professional genealogist.
Computer Courses
Our library's Computer Education and Language Lab (ELL) provides free computer-based instruction on a variety of subjects. Please click here for more information.
NEW! Personalized Computer Assistance: 30 minute sessions of one-on-one help with your computer questions and challenges—customized to meet your needs. You must reserve your session at least 24 hours in advance. These sessions are offered on Tuesdays, 10-10:30 a.m., 10:30-11:00 a.m., 11:00-11:30 a.m., and 11:00-12 noon. To sign up for one of these sessions, please call the library at 770-461-8841.
Meeting Rooms
Two meeting rooms are available to nonprofit organizations who host free educational meetings open to the public. Read about facilities and our policies for using these meeting rooms.
Additional Services
Orientation Tours and Bibliographic Instruction offered to students and other groups
Computer and Gadget Assistance available at the Fayette County Public Library

The library offers personalized computer and gadget assistance to the citizens of Fayette County every Tuesday morning in the library's computer learning lab. Instruction and help are offered during a scheduled one-on-one session with a library staff member. Staff members have helped with everything from basic computer skills, to learning to use a new smart phone or eReader like a Kindle or a Nook, to starting a Facebook page, to adding attachments to emails.

These one-on-one sessions are customized to fit each student's needs, so a reservation is required.

There are four session times available on Tuesday mornings:

10:00-10:30
10:30-11:00
11:00-11:30
11:30-12:00

To find out more about this service or to make a reservation, please call Jessica Kuhr at the library at 770-305-5327 or send her an email at jkuhr@fayettecountyga.gov .