Online Payments
The Fayette County Purchasing Department is pleased to offer an additional payment option for GovDeals.com purchases using Paymentus Corporation, a third party automated payment service that accepts MasterCard, Discover and Electronic Checks.
You may make your payment on-line anytime, any day, 24/7
Paymentus Corporation will charge a convenience fee for each transaction.
To Pay On-line:
Click here to fill out your on-line bill of sale and then you will be directed to Paymentus Corporation's secure website.
GovDeals.com payment transactions will be complete once Fayette County Purchasing Department receives a completed bill of sale form and payment in full. An executed bill of sale will be given upon request.

Frequently Asked Questions
1. What information will I need to pay for my GovDeals.com auction item?
Buyer's Certificate number, Buyer's Name, (complete) Address, Inventory ID, and Total Amount.
(See highlighted fields below)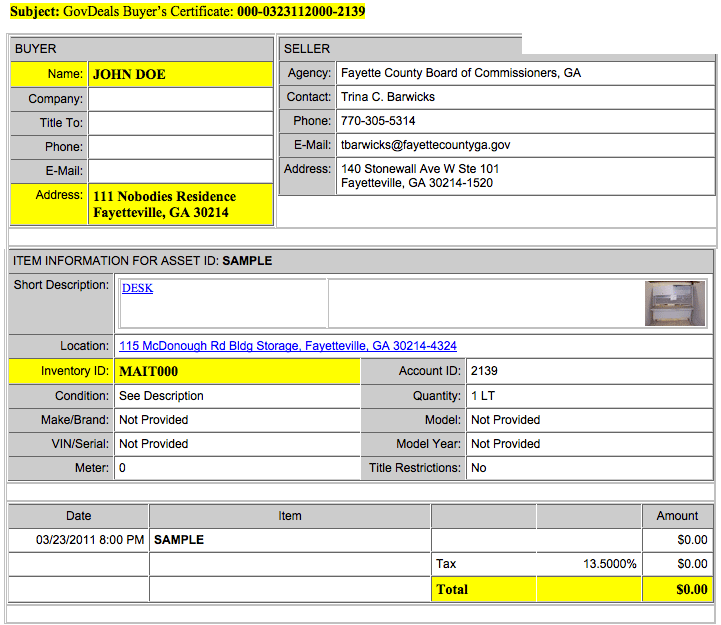 2. Why is there a convenience fee?
Paymentus Corporation charges a fee to use their service. The fee covers payment handling and processing charges. Paymentus Corporation will charge 2.35% convenience fee.
3. Does Fayette County Purchasing Department receive any part of the convenience fee?
Fayette County Purchasing Department does not receive any portion of the convenience fee. Paymentus Corporation is an independent company providing a service for the Fayette County Purchasing Department.
4. I don't have a buyer's certificate number, inventory ID number and/or total amount. What do I enter?
This information is required. Contact the Purchasing Department if you need assistance.
Fayette County Purchasing Department
140 Stonewall Ave. W., Suite 101
Fayetteville, GA 30214
Contact Us: (770) 305-5420
Email Us: purchasing@fayettecountyga.gov