Friends of the Library
Who are the Friends of the Library ?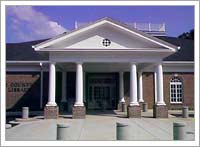 The Friends of the Fayette County Public Library is a nonprofit volunteer organization composed of members interested in enriching the quality of Library resources and services. The Friends share energy, knowledge, and expertise to support activities that help the Library staff and enhance Library facilities. Through fundraising, the Friends provide resources and programs that are not covered in the Library's budget.
The Friends of the Fayette County Public Library was formed March 14, 1985. A group of approximately 15 mutually interested citizens met that date to discuss starting some form of library support organization. The Friends, meeting monthly since its inception, continued to formalize its status and by December, 1986, had obtained a charter of incorporation as a nonprofit organization, adopted a constitution and a set of by-laws. The original name of this group was the Friends of the Margaret Mitchell Public Library, Inc. The total membership in 1985 was 62 members. The first annual book sale began in August, 1986 and netted the Friends $1,450.00.
Since then, the Friends have increased their membership to over 400 citizens and have acquired corporate sponsors as well. The Friends conduct book sales three times a year. These book sales net close to $5,000.00 for each sale. Other fundraisers include the sale of beautiful note cards featuring black and white sketches of scenes around Fayetteville and literary mugs which feature famous authors and a notable quotation. New product lines are now being pursued and will be offered for sale soon.
What do we do ?
We believe that the Public Library plays an important role in the cultural and educational enrichment of the community.
The Friends:
Promote the Library and use of library services.
Keep abreast of current and future needs of the Library.
Conduct quarterly book sales selling quality used books and product lines to the community to generate funds for Library resources.
Through fundraising, provide resources and programs that are not covered in the Library's budget.
When do we meet ?
Friends of the Library meeting: Fourth Tuesday of each month
How do I join ?
Membership is open to individuals and businesses interested in enhancing and supporting the programs and resources of the Fayette County Public Library.You may download a copy of the
*

Users must have Adobe Acrobat Reader® installed on their computer to view or print this file.This is a free download available from the Adobe website.