Electronic Resources
Library resources you can use at home.

ReferenceUSA is a powerful online reference and research tool providing library cardholders instant, real-time access to accurate, in-depth information on 24 million U.S. businesses and 235 million U.S. residents. ReferenceUSA makes it faster and easier to find new business opportunities, research executives and companies, find news articles, conduct job searches, research papers, locate addresses and phone numbers, conduct market research and much more.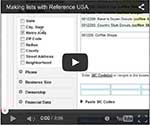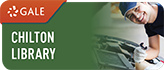 Chilton Library is a 24-hour on-call "mechanic" which provides quick online access to repair, maintenance and service information on the most popular cars, trucks, vans and SUVs on the road today. Ford, Chrysler, GM, Honda, Toyota and numerous other makes are well-represented. With more than 50 years of information on actual auto tear-downs provided in step-by-step procedures, work on the engine, chassis, electrical, drive train, suspension, and more is made easier for mechanics of any experience. Photos, illustrations and repair procedures help to simplify even the most arduous tasks.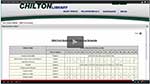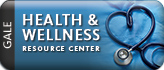 Health & Wellness Resource Center offers 24/7 access to full-text medical journals, magazines, reference works, multimedia, and much more. Perfect for researchers at all levels, this comprehensive consumer health resource provides authoritative information on the full range of health-related issues, from current disease and disorder information to in-depth coverage of alternative medical practices.

Did you know . . . ?
Did you know you can download audiobooks and ebooks from home? Learn a new language from Mango Languages? Access dozens of read-a-long storybooks with your child? Take a mock-ACT exam through Learning Express Library?
Do you need a little help learning how to go about it?
Welcome to Fayette County Library Academy! We have free online tutorials available to help you access our many resources. Click on one below to start learning now!
Holiday Closing
Monday, September 2: Closed for Labor Day
Upcoming Events:
All library events are free and open to the public. For more information, call 770-461-8841.
The Mobile Career Lab is coming.
Get free assistance with your job search from 1:30 to 4:00 p.m. on these days.

Fayette on the Page 2019
12th Annual One Book, One Community
Celebrating the Poetry of Emily Dickinson
Books of poems by Emily Dickinson available for checkout from the Fayette County Public Library
Thursday, August 8
4:30-7:30 p.m.
Poetry + Pizza Hangout
Hands-on fun with words + a free slice of pizza
Drop in anytime between 4:30 and 7:30 to explore the possibilities of blackout poetry, magnetic poetry, and collaborative poetry. Grab a free slice of pizza while you play with words. Adults, teens, and older kids are welcome.

Saturday, August 10
11:00 a.m.-12:30 p.m.
Poetry for the People
A guide to reading and appreciating the work of Emily Dickinson and other poets
Poetry is for everyone! Even if you think it's not for you, GSU English professor Lee Brewer Jones will help you find your way into a lifetime of reading, understanding, and truly enjoying poetry. For adults & teens.

Thursday, August 15
7:00-8:00 p.m.
Book Discussion Group
Chat with other adult readers in a relaxed and friendly atmosphere
The library's regular monthly book group meets to discuss Emily Dickinson's work and enjoy light refreshments. New members are always welcome.

Monday, August 19
7:00-8:30 p.m.
The Poet Tree Celebrates Emily Dickinson
The library's monthly poetry group invites the public to its August meeting, where members will share their favorite Emily Dickinson poems, along with new poems they have written. Guests are encouraged to bring a favorite Emily Dickinson poem to read aloud. Adults and teens are welcome. Light snacks will be served.

Saturday, August 24
1:00-2:30 p.m.
Personal Experience: Writing Confessional Poetry
A writing workshop with poet Collin Kelley
Read and discuss well-known poets noted for their "confessional" work, then draw upon a personal experience of your own to craft a poem and share it with the group. For adults & teens.

THE GRAND FINALE Thursday, September 5
7:00-8:30 p.m.
The Belle of Amherst
Sybil Rosen stars in a live performance of the acclaimed one-woman show that brings Emily Dickinson to life. It will be a theatrical evening to remember!
Film Series - Stage to Screen: Plays that Went from Broadway to Hollywood. Fridays at 12:30 p.m.
August 9
Born Yesterday
Junkyard tycoon Harry Brock (Broderick Crawford) goes to Washington, DC to buy himself a congressman or two, bringing along his mistress, ex-showgirl Billie Dawn (Judy Holliday). Brock hires a tutor (William Holden) to soften Billie's rough edges and make her more presentable for society. Billie is a quick study, and Harry gets more than he bargained for. Based on the Garson Kanin play. (1950 - Not rated - 103 min)

August 16
A Soldier's Story
A tough army attorney (Howard E. Rollins Jr.) is brought in to find out the truth behind the murder of a black soldier on a segregated military base during World War II. Through flashbacks, we learn that the late Sergeant Waters (Adolph Caesar) was universally unpopular, with an abundance of suspects on both sides of the color line. Based on the play by Charles Fuller. (1984 - Rated PG - 101 min)

August 23
12 Angry Men
A jury holdout (Henry Fonda) attempts to prevent a miscarriage of justice by forcing his colleagues to reconsider the evidence in a murder trial. Martin Balsam, John Fiedler, Lee J. Cobb, E.G. Marshall, Jack Klugman, and six others round out the contentious title bunch. Based on the play by Reginald Rose. (1957 - Not rated - 95 min)

August 30
The Sunshine Boys
Lewis and Clark (George Burns and Walter Matthau) were famous comedians during the vaudeville era. Off-stage, though, they couldn't stand each other, and haven't spoken in over 20 years. A TV variety show wants to feature a reunion of the classic duo, but will the crotchety old comedians be able to put aside their differences before the big show? Based on the Neil Simon play. (1975 - Rated PG - 111 min)
Monday Morning Mystery: A Book Group for Adults. Second Monday of the month, 11 a.m. For more information, contact Sarah Trowbridge at saraht@fayettecountyga.gov or 770-305-5343, or Jessica Kuhr at jkuhr@fayettecountyga.gov or 770-305-5327.
August 12
Back Channel
by Stephen L. Carter

In October 1962, while the Kennedy administration furiously debates about a response to the Cuban Missile Crisis, 19-year-old Cornell sophomore Margo Jensen becomes an unwitting pawn in escalating tensions between American and Soviet government forces. An intriguing and fast-paced standalone espionage thriller that asks, "What if ...?" – from the author of The Emperor of Ocean Park.
September 9
Prior Bad Acts
by Tami Hoag
Assigned to protect a judge whose unpopular ruling on a serial killer has led to threats, Minneapolis homicide detective Sam Kovac and his partner, Nikki Liska, find their case taking a whole new direction when the judge is kidnapped. (Book 3, Kovac & Liska series)
Thursday Night Book Group: Third Thursday of the month, 7 p.m. New members are always welcome! Book discussion led and moderated by a librarian. Light refreshments provided compliments of the Friends of the Fayette County Public Library. Please sign up at the desk or contact Sarah Trowbridge at 770-305-5343, or saraht@fayettecountyga.gov .
August 15
Selected Poems
by Emily Dickinson
One Book, One Community 2019 Selection -

For this year's One Book, One Community program, we read and celebrate the work of Emily Dickinson (1830-1886), a true American original. "'Hope' is the thing with feathers –," "Because I could not stop for Death –", and "I dwell in Possibility –" are some of the most memorable opening lines in American poetry, written by an artist who was virtually unknown during her 55 years of life. Filled with original metaphors and unexpected syntax, Emily Dickinson's poetry sometimes reads like a riddle. She regularly employs paradox—a statement that seems like a contradiction but actually is not—in order to get at the truth from an unpredictable angle. Her gift for figurative language—imagery, metaphor, personification, simile—emerges throughout her almost 1,800 poems in brilliant and subtle ways. She often wrote about death, but her poetry is also filled with the insightful happiness of a woman who had loved deeply and who relished the beauty of nature.

September 12
The Secret Life of Emily Dickinson: A Novel
by Jerome Charyn


Channeling the devilish rhythms and ghosts of a seemingly buried literary past, Charyn conjures a work of fiction that aims to reveal Emily Dickinson's passions, inner turmoil, and powerful sexuality. The novel, daringly written in first person, begins in the snow. It's 1848, and Emily is a student at Mount Holyoke, with its mournful headmistress and strict, strict rules. Inspired by her letters and poetry, Charyn goes on to capture the occasionally comic, always fevered, ultimately tragic story of her life — from defiant Holyoke seminarian to dying recluse. (PLEASE NOTE: This month's meeting is scheduled for the 2nd Thursday.)
The Poet Tree: Poetry Circle and Workshop: the third Monday of every month, 7-8:30 p.m. A monthly poetry-reading and writing group for adults and high school students. Facilitated by local poet Sikha Karmakar. Open to all poets, aspiring poets, and poetry lovers, high school age and up. Read, share and discuss the work of your favorite published poets. Explore the elements and devices of all kinds of poetry. Write and share new writing in a supportive atmosphere. For more information, contact Sarah Trowbridge, Public Services Librarian: saraht@fayettecountyga.gov. Hosted by the Fayette County Public Library and the Friends of the Fayette County Public Library.
Speak Up! What Kinds of Adult Programs and Events Would You Like to See at Your Library? If you have ideas for things to do, see and learn at your library, don't keep them to yourself…please let us hear from you. Drop a note in our suggestion box at the circulation desk, or email Sarah Trowbridge, Public Services Librarian: saraht@fayettecountyga.gov
Baby Dayzzz: Parenting and Newborn monthly informational group meets on the second Tuesday of each month at 10:30 a.m. Babies up to six months old are welcome. This group offers support and answers to all your newborn questions during the first month. An educational speaker will present a new topic each month. Sponsored by Piedmont Fayette Hospital and Fayette County Public Library.
*

Users must have Adobe Acrobat Reader® installed on their computer to view or print this file.This is a free download available from the Adobe website.
Can't find time to read? Join the Library's Online Book Clubs and start receiving chapters from popular books in your daily email. Every day, Monday through Friday, we'll send you a portion of a book that takes only five minutes to read. During the week, you'll have a chance to read 2 or 3 chapters, enough to know if it's a book you want to check out from the library and finish. You can read a wide variety of books including fiction, nonfiction, romance, business, teen and mystery books. Read at home, at work, or at school. The Online Book Clubs are a free service of the library. Click on the image below and start making time for reading again.

Questions? Email jkuhr@fayettecountyga.gov
Want to know what's new at your library? Check out our New Arrivals and Popular Picks and also find lists of award-winning titles for adults and children. Click on the image below for Select Reads:

Questions? Email : jkuhr@fayettecountyga.gov
Library Newsletter Sign Up:
Sign up now for your favorite Library Newsletters.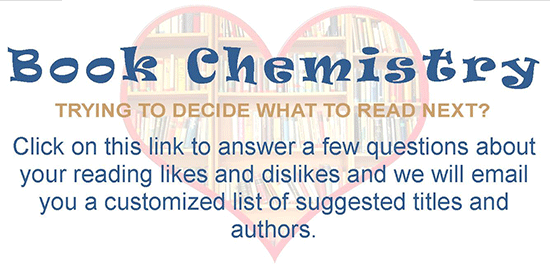 Georgians may now register to vote online: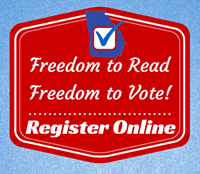 Contact:
Christeen Snell, Library Director
csnell@fayettecountyga.gov
770.461.8841 Ext. 5333
Gloria Thomas, Public Services Librarian
gthomas@fayettecountyga.gov
770.461.8841, Ext. 5345
Jessica Kuhr, Public Services Librarian
jkuhr@fayettecountyga.gov
770.461.8841, ex. 5327
Sarah Trowbridge, Public Services Librarian
saraht@fayettecountyga.gov
770.461.8841 Ext. 5343
Gina Martin, Public Services Librarian
gimartin@fayettecountyga.gov
770.461.8841, ex. 5342
Ada Demlow, Children's Librarian
ademlow@fayettecountyga.gov
770.461.8841, ex. 5351
The Fayette County Public Library:
provides free access to information, Internet and word processing.
offers outstanding research service.
contains over 139,000 volumes of books, audio CD's, DVD's, newspapers and magazines.
has access to collections of over 280 Georgia libraries in the PINES state network.
Outstanding programming for all ages, includes:
Story times with well-researched, age-appropriate activities for children from birth through 5 years.
Educational Learning Lab for students in grades K-8.
English as a Second Language (ESL) computerized, self-paced courses.
Free concerts and other cultural programs.
Free adult computerized tutorial classes for Microsoft Windows, Word, Excel, Access and PowerPoint. A teacher is present to assist students with these tutorials.
The library's goals are to serve as a role model of excellence in customer service and information delivery for all patrons; and to be utilized as the County's Info Source and as a center for cultural arts for Fayette County.
The Fayette County Public Library is an affiliate of the Flint River Regional Library System. Our mission is to provide: current, high-interest materials and programs; materials and programs for lifelong learning; information-seeking skills training and assistance; awareness of cultural diversity and answers to questions. The library respects the right of every individual to access all library materials freely.