News & Events
Fayette County's Finance Department receives the Government Finance Officers Association's Certificate of Achievement for Excellence in Financial Reporting

On April 8, 2016 the Government Finance Officers Association of the United States and Canada (GFOA) announced through a press release that Fayette County, Georgia had received the GFOA's Certificate of Achievement for Excellence in Financial Reporting…
FULL STORY
Soldier Ride Event
Join your community in support of Soldier Ride® on Saturday, April 23, 2016.
LAKE PEACHTREE DREDGING COMPLETE, LET THE REFILL BEGIN
Mere hours ahead of a weather front projected to bring thunderstorms and rain, Fayette County's contractor, Massana, informed the County that they have completed their work in the lake bed for the dredging of Lake Peachtree.
Fayette County Board of Commissioners Chairman Charles Oddo gave the official announcement. . . full story

The Fayette County Department of Fire and Emergency Services has recently launched their own Facebook page. The page is designed to highlight the department, its people, its accomplishments, and its service to the community. The use of Facebook to reach on-line followers is an additional component of the department's mission of service. Full Story
Redwine Road Multi-Use Path Project
Fayette County Emergency Management Agency has the ability to notify citizens in the event of disaster, evacuation notices, boil water notices, missing child reports, etc., through the use of the Code Red mass notification system. Citizens that wish to receive these important messages should click on the Code Red enrollment link and register to receive notification messages through the system. Enroll in this service to stay informed! Standard rates apply and citizens can remove themselves from the system by returning to the link. If you have any questions, please call the Fayette County Emergency Management Agency at 770-305-5169.
Fayette County's Finance Department receives the Government Finance Officers Association's Distinguished Budget Presentation Award
On August 3, 2015 the Government Finance Officers Association of the United States and Canada (GFOA) announced through a press release that Fayette County, Georgia had received the GFOA's Distinguished Budget Presentation Award for its budget.
The award represents a significant achievement by Fayette County. It reflects the commitment of the county's governing body and staff to meeting the highest principles of governmental budgeting. In order to…full story
Commissioner David Barlow elected to serve as Chairman of the Fayette County Board of Health
The Fayette County Board of Health, in its special called meeting on Tuesday, January 19, 2016, unanimously voted County Commissioner David Barlow to serve as the Chairman of the Health Board…full story
Kissing Bugs and Chagas Disease

Photo Source: http://wwwnc.cdc.gov/eid/article/16/3/09-0648-f1.htm
 Below is information regarding Kissing bugs and Chagas disease from Dr. Hinkle, UGA Department of Entomology.  Please feel free to bring in a sample to the UGA Extension office at 140 Stonewall Avenue West, Suite 209, Fayetteville, Georgia if you find an insect you are unsure about. Kissing bugs have been in Georgia for millions of years.  They, and their relatives such as leaf-footed bugs and wheel bugs, are common. Kissing bugs are not deadly and most of them are not infected with the parasite that causes Chagas disease. . .
full story
.
ADA-Compliant Floating Docks for Lake Horton and Lake McIntosh  
Fayette County citizens appreciate the beauty of their lakes.  Many take advantage of the recreational opportunities they provide on weekends, holidays, or other occasions.  Non-motorized boating is one popular and healthy use that the citizens enjoy.
The Board of Commissioners has taken actions to increase the ability of all citizens to access Lake Horton and Lake McIntosh…full story
Have Books, Will Travel!
Everyone knows the children's department of Fayette County Public Library has books, computers, toys and more! But did you know the library can come to you? No kidding! For free!
You might see the Children's Librarian at your school, daycare or even a community event! In fact, the Children's Librarian has made 70 visits this year and reached 7619 children!
Kids might hear funny or scary stories or do some interactive games. Older kids may take turns filling in Mad Libs to create a silly story.  Kids might get a chance to practice their presentation skills by telling jokes and performing reader's theater. Maybe a class will get to see the newest additions to the library's collection. Kids might even see the Children's Librarian at their school's Literacy Night or Career Day.  Plus, parents or teachers might see the Children's Librarian at a PTO meeting or staff meeting. Patrons might even see the Children's Librarian at some community events like the Back to School Expo.
Studies show that the more kids read, the more they succeed. However, the reality is that families are busy. Kids aren't always able to get to the library so the library comes to them! 
Contact Erin Wen, the Children's Librarian at Fayette County Public Library if you would like for her to visit your school or event! ewen@fayettecountyga.gov 
Speaking of Giving Thanks!
Animal Shelter Receives Donation
A special thanks to the Kindness Kids Club from Braelinn Elementary School in Fayette County who presented Director Rani Rathburn from the Fayette County Animal Shelter a check for $675.00! The students hosted a Change Drive and the staff at the shelter were very excited to receive such a generous donation. The money will go directly for food and medical care for the animals.
Fayette County Building Permits Office & The Georgia Environmental Protection Division (EPD)
Offer A FREE Public Information Session For You
Asbestos & Lead-Based Paint:
What Home Owners & Citizens Really Need To Know
Repeated Sessions: 10 am-12 Noon & 1-3pm
December 11, 2015

Full Details
Fayette County Implements Significant Water System Improvements
The Fayette County Water System over the past two years has made significant improvements, is in full compliance and plans to achieve a Gold Award for 100% compliance for this past year's operations.
During the summer of 2013, the State Sanitary Survey categorized the Fayette County Water System with "Concerned Performance". . .full story
Local community comes together for 15th Annual Fall Yard Sale
On October 17, our community turned out for a cool, but sunny, fall day for the
15th Annual Fall Yard Sale
hosted by the F
ayette County Parks & Recreations Department
.  This region-wide event connected a wide-group of participants including individuals trying to clear out their garage/basement while earning some extra money, artists and crafters with hand-made items, groups needing to hold a fundraiser, and also shoppers looking for gently-used items (or sometimes even new or hand-made) at a great price! . . .
full story
Fayette County Board of Health appoints Dr. Loida Bonney, MD, MPH to Health Board
The Fayette County Board of Health is one of 159 County Boards of Health that partners with the Georgia Department of Public Health and eighteen District Health Directors with shared responsibilities of bringing public health functions to the state.  Each partner is charged with responsibilities while cooperating with each other, providing mutual support, maintaining open communication, and showing respect for the unique role that each partner has in serving Georgia's citizens.
On September 10, 2015 the Fayette County Board of Commissioners unanimously approved the recommendation to appoint Dr. Loida Bonney to fill an unexpired term that will end on December 31, 2017 on the Board of Health. . .full story
Fayette County Implements "State of the Art" 911 System
Fayette County has completed its implementation of a new "State of the Art" 911 System, providing greater service to all citizens.
Fayette County's staff has worked in conjunction with Airbus DS, located in Temeula, California, since the beginning of 2015. This initiative now enables Communications Officers to utilize state of the art equipment that enhances communication. . .full story
Animal Control Staff attends the Animal Law Symposium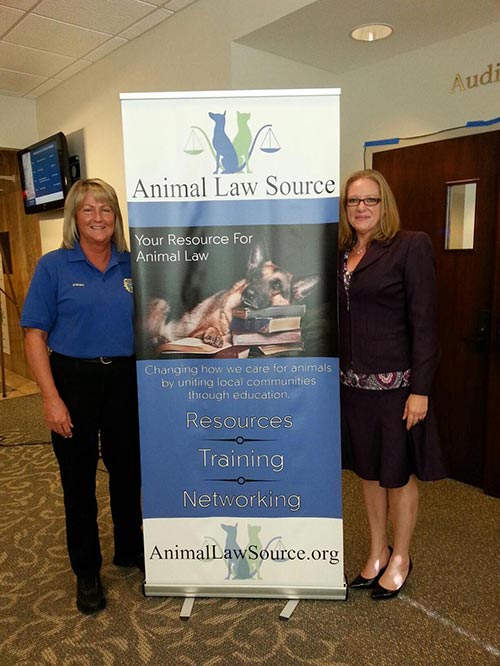 Senior Animal Control Officer Donna Evans, and Assistant Solicitor General Audrey Cruzan recently attended the Animal Law Symposium at the State Bar of Georgia. The two day event was put on by Animal Law Source. The purpose of the conference is to educate prosecutors, law enforcement, animal control officers, shelter staff, and other agencies about the importance of a coordinated response to cases involving animals. Guest speakers included and array of experts in the legal and law enforcement fields. One guest speaker was Victoria Stilwell, a professional dog trainer and TV personality on Animal Planet. It was an excellent opportunity to update our knowledge on current laws, network with local agencies, and share resources. Anyone interested in reading more about animal law in our state can go to the new Animal Law Source website at http://animallawsource.org/about-us/ (AnimalLawSource.org)
About Us - Animal Law Source
About Us. The team at Animal Law Source has over 25 years of combined experience in criminal and civil law related to animals. Over the years the founders, Claudine >
The online burn permit process will only take a few minutes and must be completed before a permit can be issued. Click
here
to apply.
As the dog days of summer draw to a close, it is a great time to take stock of household water usage over the past summer and throughout the year and make simple changes that will help save both money and water in the future. October, in particular, is the right time to do both as the state of Georgia once again sponsors a tax-free weekend for the purchase of WaterSense and ENERGY STAR labeled products with a sales price of $1,500.00 or less. Products for noncommercial home or personal use will be exempt from state and local sales taxes Friday, October 2, through Sunday, October 4, 2015.
Replacing a standard showerhead with a WaterSense-labeled one can save thousands of gallons of water a year.  Replacing an old toilet with a water-efficient one will save more than two gallons a flush. Besides saving money on the sales tax, residents who purchase a WaterSense-labeled toilet may qualify for a rebate. Details about which utilities offer rebates, either directly or through the Metro Water District are available at www.northgeorgiawater.org/toiletrebate.
To search for WaterSense-labeled products, visit www.epa.gov/watersense/product_search.html. 
Visit Fayette County Water System at www.fayettecountyga.gov/water/helpful_hints.htm for other strategies for reducing water use.   Then, be sure to take the water conservation pledge at http://www.mydropcounts.org.
Redwine Road Multi-Use Path Project
Georgia Sales Tax Holiday for WaterSense Products Is Back
Fayette County's Finance Department receives the Government Finance Officers Association's Distinguished Budget Presentation Award
On August 3, 2015 the Government Finance Officers Association of the United States and Canada (GFOA) announced through a press release that Fayette County, Georgia had received the GFOA's Distinguished Budget Presentation Award for its budget.
The award represents a significant achievement by Fayette County. It reflects the commitment of the county's governing body and staff to meeting the highest principles of governmental budgeting. In order to…full story
Water Reflections Photo Contest
Call for Entries!
Metro Atlanta is home to many beautiful water features like Lake Lanier, Allatoona Lake and the Chattahoochee, Flint, Yellow and Etowah Rivers. These lakes and rivers provide Metro Atlantans with more than just recreational and photo opportunities…full story
Fayette Senior Center Expansion Project Near Completion
Continuing a 30 year partnership between Fayette County and the Fayette Senior Services Inc. (FSS), a non-profit, 501(c)(3) organization, efforts are being finalized to complete a 1,600 square foot renovation. . .Full Story
Animal Control staff attend the Best Friends National Conference
Animal Control Director Rani Rathburn and Animal Control Officer Susan Hardwick attended the Best Friends National Conference at the Cobb Galleria July 16-19. Best Friends Animal Society is a nonprofit organization building no-kill programs and partnerships that will bring about a day when there are No More Homeless Pets. The Society is known world-wide as a leader in the animal care community and operates the largest animal sanctuary in the nation in Kanab, Utah. The conference featured classes on adoption strategies, fundraising ideas, animal health and well-being, leadership skills, and community outreach. Director Rathburn was able to obtain a grant through the Best Friends Network Program for employees to attend the conference. Rathburn and Hardwick are excited to bring back the inspiring information and ideas they gained and implement them at the Fayette County Animal Shelter to better improve services for the animals and to the county. Members of the Fayette Humane Society also attended and the ladies met up as the Fayette Humane Society and Fayette County Animal Control have a valuable and beneficial relationship.

Animal Control Officer Susan Hardwick and Animal Control Director Rani Rathburn

Front row, left to right: Elisa Price of Critter Sitters, Susan Griffith, Jan Abbott, Karen Scannell
Top row, left to right: Susan Hardwick, Sharon Marchisello, Karin Keller, Rani Rathburn, Sally Pritchett, Nancy Turk

Rani Rathburn, Fayette County Animal Control Director
LOCAL SPECIAL OLYMPICS FAYETTE COUNTY ATHLETE REPRESENTING THE USA AT WORLD GAMES
Local Special Olympics Fayette County Athlete Michael Crofton will be representing the USA at the Special Olympics World Games in Los Angeles, California, July 25 through August 2, 2015.  Michael is a member of the Special Olympics USA sailing team.  He along with 299 other athletes, 44 Unified Partners, 96 coaches, and 41 management team members will represent the United States at the Special Olympics World Summer Games.  Michael is a member of the Unified Sailing team along with his unified partner from Macon, John Kirkland.  This will be their first time to Los Angeles and the first time they will be sailing a boat with single hull instead of the catamarans they are used to sailing.  Michael and John share an easy going attitude that works well with the unpredictability of sailing.  Michael will be manning the jib sail as John steers and helms the main sail.  The Assistant Sailing Coach to the USA Team is local Special Olympics Fayette County Coordinator Debbie Parrish.
Crofton has been involved with Special Olympics Fayette County since he was three-years- old, and  started competing in sailing five years ago.  He considers sailing his favorite sport.  His Unified partner (a teammate without intellectual disabilities) John, started sailing with Special Olympics 2 years ago.
Other hobbies of Michaels are walking, jogging, video games, traveling and going out with friends.  Special Olympics has changed Michael's life by helping him make new friends, learn new skills and being able to succeed  at new challenges.  In the future he wants to become a volunteer coach for younger Special Olympics athletes.
Every two years, the world transcends the boundaries of geography, nationality, political philosophy, gender, age, culture and religion to come together for the Special Olympics World Games.  Alternating between Summer and Winter Games, this event is the flagship event of the Special Olympics movement, which promotes equality, tolerance and acceptance around the world. This prominent world stage brings attention to the Special Olympics movement and helps create positive, sometimes lifesaving policy change for people with intellectual disabilities in countries around the world.  Nearly 5 million Special Olympics athletes train and compete in 170 nations across the globe.
Nearly 7,000 athletes from 170 nations will compete in twenty five Olympic-type sports at the 2015 World Games:  Aquatics, Athletics, Badminton, Basketball, Beach Volleyball, Bocce, Bowling, Cycling, Equestrian, Golf, Gymnastics, Judo, Kayaking, Half Marathon, Open Water Swim, Power Lifting, Roller Skating, Sailing, Softball, Soccer, Table Tennis, Team Handball, Tennis, Triathlon, and Volleyball.  More than 500,000 family, friends, volunteers, and spectators are also expected to attend.
Make plans to tune in to watch the Opening Ceremony of the 2015 Special Olympics World Games Live on July 25 at 9 PM ET on ESPN.
Be sure to cheer on the athletes from the Special Olympics USA and local Fayette County athlete Michael Crofton during the Opening Ceremony parade of athletes! 
ESPN's coverage of the World Games from Los Angeles begins with the Opening Ceremony and continues daily, throughout the Games.  Check local listing for exact times.
Pictured are Unified Partner John Kirkland and Local Fayette County Athlete Michael Crofton.
Fayette County Hires New E911 Director
Fayette County has hired Bernard Brown to be director of the County's Consolidated E911 Center. Brown has over thirty years of experience in Public Safety with an in depth knowledge of all facets of 911 operations.
Brown began his career as a dispatcher in Buffalo, New York and currently serves as a regional coordinator of (21) twenty-one 911 centers in the Commonwealth of Virginia. He has overseen City and County 911 operations in Virginia and has experience with emergency medical and emergency management operations as well.
Brown holds numerous certifications from both the National Emergency Number Association (NENA) and the Association of Public-Safety Communications Officials (APCO) organizations and serves as an adjunct instructor for APCO. He is also the immediate past president of NENA.
"I am very pleased," said County Manager Steve Rapson. "The County's Emergency 911 Center is the hub of communications for our public safety facilities throughout the entire county and we're exciting about tapping into Bernard's broad in-depth PSAP experience."
Brown will begin his new assignment on August 24th at the Fayette County E911 Center which is the public safety answering point for all of Fayette County and handles dispatch responsibilities for the Fayette County Sheriff's Department, Fayette County Fire and Emergency Services, Fayetteville Police Department, Fayetteville Fire Department, Peachtree City Police Department, Peachtree City Fire and EMS, Tyrone Police Department and the Fayette County Marshal's Office.
Brown replaces Cheryl Rogers who served as director of the consolidated center since its inception in 1995 and retired from the County in March of 2015 with 35 years of service.
Fayette County Issues Corporation and Business Parking Decals for Lake McIntosh and Lake Horton Park
Fayette County, Georgia, June 19, 2015 - On May 28, 2015, the Fayette County Board of Commissioners approved a two-year corporation/business parking decal that permits non-county employees of corporations and businesses in Fayette County to use both Lake McIntosh Park and Lake Horton Park Monday through Friday from 8:00 a.m. to 5:00 p.m. The cost for the two-year decal is $1.00.
"The objective of the BOC is one of appreciation to those who work daily in Fayette County, but may not reside here. In a real sense, they, too, are part of our community and its well-being. This special decal affords those "day citizens" the opportunity to enjoy the amenities offered by Lake Mac and Lake Horton as a thank you for their contributions to our home of Fayette." says Chairman Charles Oddo.
Persons who are not residents of Fayette County, but who are employed at businesses and corporations that are located in Fayette County are able to obtain the $1.00 parking decal. The decal will permit the employee to enjoy both Lake McIntosh and Lake Horton Monday through Friday from 8:00 a.m. through 5:00 p.m.
Non-County residents who wish to visit either Lake Horton or Lake McIntosh on the weekends, before 8:00 a.m., or after 5.00 p.m. will need to purchase a $5.00 daily parking decal or an annual $50.00 parking decal.
Decals are not transferable and are required to be placed on the outside of the back window at the lower, left-hand corner of the driver's side.
Employers may contact Fayette County's Parks and Recreation Department at 770-716-4320 or by email at recreation@fayettecountyga.gov for instructions on how to obtain the parking permits.
Group reservations are required to be made in person and all rules and regulations apply
WE NEED YOUR INPUT...
Fayette County Health Department wants to know your opinion about our community health and quality of life. We plan to use the information to develop a community health improvement plan so that we may serve you better. Click HERE to complete the survey.
Fayette County's GIS mapping site has moved.
Please update bookmarks to http://maps.fayettecountyga.gov
Please contact
Fayette County GIS
with any questions or comments.
Important Information Provided from the Georgia Forestry
Outdoor Burning Ban Effective 1, 2015
The Fayette County Department of Fire and Emergency Services would like to remind all Fayette County residents that the Georgia Environmental Protection Division (EPD) Open Burning Ban will be in effect May 1 through September 30, 2015.
Fayette County Burn Permit Process Has Changed
The Fayette County Department of Fire and Emergency Services has changed the method by which residents of unincorporated Fayette County, Tyrone, Brooks, and Woolsey will acquire outdoor burn permits.


Click here to view Fayette County Category I Dam Projects presentation