County Administrator
Steven A. Rapson, CPA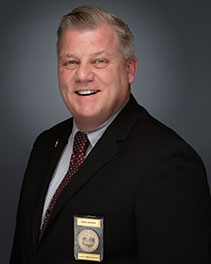 Steven was appointed as the County Administrator in January by the Fayette County Board of Commissioners to ensure the day-to-day operation of the County and the delivery of services to the citizens. As the County Administrator his responsibilities include the preparation, monitoring and execution of the county budget, public relations such as meeting with citizens, citizen groups, businesses, and other stakeholders and serving as a County liaison to regional, state and federal agencies along with local governments both inside and outside the County.
As a Certified Public Accountant and a graduate of Georgia State University, he began his financial services career over 25 years ago. He has served as the City Manager for the City of Union City, the Assistant City Manager and Chief Financial Officer of Sandy Springs, Treasurer of the South Fulton Regional Jail Authority, as well as, an elected official and finance director in county, city, schools and corporate environments. He has planned and directed the "Comprehensive Annual Financial Report" which received the Government Finance Officers' Certificate of Excellence in Financial Reporting Award each year from 2006 through 2011.
Mr. Rapson and his wife have lived in Peachtree City for 27 years and are both active in the Fayette County Special Olympics where Mr. Rapson has served as the Treasurer for a number of years. He is an active member of the Association of County Commissioners of Georgia and the International City/County Management Association. In 2016, he was voted the Vice-President of the Georgia City and County Manager Association.
140 Stonewall Avenue West
Suite 100
Fayetteville, GA 30214
Office: 770-305-5100
srapson@fayettecountyga.gov