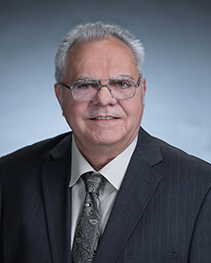 Commissioner Randy Ognio was elected to serve his second term in office in November 2016. On January 10, 2019 the Board of Commissioners elected Commissioner Ognio to serve as Chairman. Commissioner Ognio holds District 2 seat which includes voting areas of Brooks, Braelinn, Oak Grove, Rising Star, Starrsmill, Whitewater, and Woolsey.
Randy is a native of Riverdale, Georgia.
From his earliest memory, Randy worked in the construction industry. His career began as a teenager, working under his father's guiding and watchful eye. He learned the basics, and later went on to supervising the construction and operational ends of the business; next it was off to College, where Randy chose the path of electrical contracting.
In 1974, B&O Electric was created, and later incorporated in 1985. Randy serves on the board of B&O as President.
Randy also serves as President for AG Construction. Both companies are located in Fayette County.
Over the years Randy's responsibilities have included everything from electrical, construction, staffing, creating and maintaining working budgets, training employees for management and operations, and building working relationships with large corporations across the metro Atlanta Area. He utilizes those skills on behalf of the Fayette County's citizens as their County Commissioner.
As County Commission Chairman, Randy currently serves on the board of the ARC.
Randy believes that by being a part of this board we are better equipped a can have a say in whatever the ARC proposes.
Randy and his wife of 34 years, Denise, have lived in Fayette County since 1993. They attend Woolsey Baptist church. They are proud of their three - two sons, Nicholas and Rocky, both living in Barnesville Ga, one Daughter, Melody Ognio, who resides in Senoia, Ga.
Contact Information
Randy Ognio, Chairman, District 2
Term expires: 12/31/2020
140 Stonewall Ave. W., Suite 100
Fayetteville, GA 30214
Cell: 678.414.7952
Office: 770.996.8993
Email: ROgnio@fayettecountyga.gov