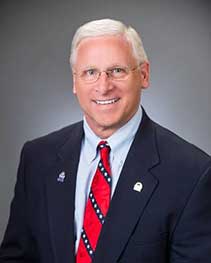 Commissioner Barlow was born and raised in Helena, Arkansas. At fifteen years of age, he was sent to the Walt Whitaker Ranch located 10 miles out from Douglas, Wyoming which was approximately 50 miles out from Casper, Wyoming. He lived in town during the school year and attended Natrona County High School, NCHS, in Casper.
The summer months of his youth were spent on the ranch, working the cattle and in the fields.
The responsibility that came from ranch life propelled Commissioner Barlow to a successful Army career upon volunteering for the draft in August 1966.
Commissioner Barlow served two tours of duty in Vietnam. He attributes his military service as where he developed his "can-do" attitude.
Prior to moving to the Town of Tyrone in Fayette County, Commissioner Barlow owned and operated a Mississippi business he created to provide the legal community with quality video and digital trial media. He later moved to Tyrone to be close to his daughter and grandchildren.
Commissioner Barlow is a veteran political campaigner and has assisted numerous candidates in winning elected office in Fayette County.
On June 23, 2011, Commissioner Barlow decided to run for office when resident Nancy Truluck made an impassioned plea to the Board of Commissioners from her wheelchair without getting a response.
He campaigned on honesty and transparency. His campaign slogan was, "Faith, Family and Fayette County".
A devout Christian, Commissioner Barlow enjoys reaching out to the faith community in Fayette County, seeking their participation in local events.
Since being sworn into office in January 2013, Commissioner David Barlow has achieved Certified Commissioner status and continues with advanced training through the Association County Commissioners of Georgia (ACCG). His passion to work with those in the community has led him to be appointed to the Fayette County Board of Health where he represents Fayette County as one of the Board of Directors of the McIntosh Trail Community Service Board; a public entity created by the Georgia legislature in 1993 to provide mental health, developmental disability and addictive disease services.
Commissioner Barlow is also a member of Fayette FACTOR; Fayette Alliance Coordinating Teamwork, Outreach & Resources, a 501 (C) (3) nonprofit organization comprised of community leaders that include families, local business and civic leaders, faith-based and school-based organizations, and public/private human services providers. He is a member of Leadership Fayette, sponsored by the Fayette Chamber of Commerce which provides existing and emerging leaders with opportunities to enhance their civic knowledge of Fayette County, hone their leadership skills and network with leaders across the community.
He continues his involvement in the community by regularly attending the Main Street Tourism Association and the Fayette County Library Board meetings as well as attending various Atlanta Region Commission (ARC) transportation meetings and other community organization meetings throughout Fayette County. He has volunteered as an adult volunteer for the Georgia 4-H Summer Camp at Rock Eagle helping with 134 Fayette County youth.
Other organization involvements include:
Graduate of Chamber of Commerce "Leadership Fayette" 2014 Class
Annual Judge for VFW "Patriots Pen Essay" Competition
Annual volunteer for VFW National "Buddy Poppy Day"
Annual Judge for "National Christian Forensics and Communications Association"
Keynote Speaker for local 2014 Home School Graduating Class
Annual Judge for The American Legion "National High School Oratorical Contest".
Commissioner Barlow is a member of Dogwood Church in Peachtree City, where he volunteers with the video team. He has had the privilege of being married to his wife, Cherie, for 48 years. The two of them volunteer with Meals-on-Wheels and deliver every Tuesday to clients in Tyrone.