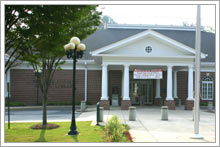 Chris Snell, Library Director
csnell@fayettecountyga.gov
library@fayettecountyga.gov

Fayette County Public Library
1821 Heritage Park Way
Fayetteville, Georgia 30214
770.305.5426
Hours:
M - Th: 9 a.m.- 9 p.m.
F - Sa : 9 a.m. - 6 p.m.
Be the first to know about new releases.
Follow our pinterest page to find out about new titles. We'll pin all the new releases. Once it shows up on our board, you can place it on hold.
The Fayette County Public Library now offers free downloadable audiobooks and ebooks!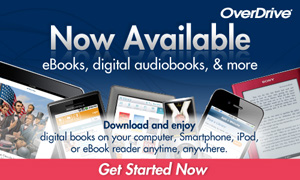 We have added additional copies of popular titles exclusively for our patrons. Sign in first with your Fayette County Public Library card number and password to view all titles that are available to you.

Upcoming Events:
All library events are free and open to the public. For more information, call 770-461-8841.
Saturday, February 13, 11:00 a.m. – Let's Talk About Love & Relationships: A one-hour personal empowerment seminar presented by professional therapist Musanna Overr. Topics include: Unconditional Love, Cinderella Who?, Love Thy Neighbor, Attraction Does Not Equal Compatibility.
Friday, February 26, 7:00 p.m. – Welcome to the Fireside: The 18th Annual Blended Heritage Celebration. Don't miss Fayette County's cultural event of the year, with music, poetry, dance, laughter, food and fun for all. Admission is free, but seating is limited. Download the Blended Heritage 2016 flyer.
"Learn and Play Chess" at the library every Tuesday from 4-5 p.m. Ages 7-Adult. Bring your board!
The Mobile Career Lab is coming. Get free assistance with your job search from 1:30 p.m. to 4 p.m. on these days*.
Learn to Knit with Ann Lambert – a 10-week class for adults. Wednesday evenings at 7:00 p.m. starting January 27. See flyer for details.
Books to Movies A to Z: a free film series for adults - Watch for (almost) a whole alphabet's worth of free movies based on books throughout 2016.
Friday, February 5
12:30 p.m.
About A Boy (2002)
Hugh Grant, Nicholas Hoult, Toni Collette, and Rachel Weisz star in a comedy of errors based on the 1998 novel by Nick Hornby. Rated PG-13. 118 min.

Friday, February 19
12:30 p.m.
Big Fish (2003)
A dying man recounts the larger-than-life adventures of his youth to his grown son. Ewan McGregor stars as the young Ed Bloom, with Albert Finney, Billy Crudup, Jessica Lange, Helena Bonham Carter, Steve Buscemi, and Danny DeVito. Based on the 1998 novel by Daniel Wallace. Rated PG-13. 125 min.
Monday Morning Mystery: A Book Group for Adults. Second Monday of the month, 11 a.m. For more information, contact Sarah Trowbridge at saraht@fayettecountyga.gov or 770-305-5343, or Jessica Kuhr at jkuhr@fayttecountyga.gov or 770-305-5327.
February 8 - 11:00 a.m.
The Pocket Wife
by Susan Crawford
One afternoon, Dana drunkenly argues with her neighbor Celia, takes a nap, then wakes to find Celia dead. Could Dana have murdered her? Dana, suffering from manic episodes, tries to solve her friend's murder before she loses all self-control.
SPECIAL EVENT: Meet the Author! Susan Crawford will attend our February meeting to talk about The Pocket Wife (following its release in paperback in December 2015) and answer our questions. If you bring your own copy of the book, Susan will be glad to sign it for you.

March 14 – 11:00 a.m.
Trust Your Eyes
by Linwood Barclay
Successful magazine illustrator Ray Kilbride returns to his hometown in upstate New York to settle his late father's affairs and to figure out how to care for Thomas, his schizophrenic younger brother. Thomas sits in his bedroom obsessively studying online street maps of every city in the world. Deeply agitated, believing he has seen what appears to be a murder in progress, Thomas shows his brother a screenshot and demands that Ray go to Manhattan to check it out. Ray's clumsy investigative efforts expose a conspiracy that eventually puts both brothers in mortal danger.
Thursday Night Book Group: Third Thursday of the month, 7 p.m. New members are always welcome! Book discussion led and moderated by a librarian. Light refreshments provided compliments of the Friends of the Fayette County Public Library. Please sign up at the desk or contact Sarah Trowbridge at 770-305-5343, or saraht@fayettecountyga.gov .
February 18 - 7:00 p.m.
Mules and Men
by Zora Neale Hurston
Originally published in 1935, this collection includes the African American folktales that Hurston collected in the field, along with her descriptions of the conversations and encounters she had in the course of her research in her hometown of Eatonville, Florida and across the South.
The Poet Tree: Poetry Circle and Workshop: the third Monday of every month, 7-8:30 p.m. A monthly poetry-reading and writing group for adults and high school students. Facilitated by local poet Sara DeLuca. Open to all poets, aspiring poets, and poetry lovers, high school age and up. Read, share and discuss the work of your favorite published poets. Explore the elements and devices of all kinds of poetry. Write and share new writing in a supportive atmosphere. For more information, contact Sarah Trowbridge, Public Services Librarian: saraht@fayettecountyga.gov. Hosted by the Fayette County Public Library and the Friends of the Fayette County Public Library.
Speak Up! What Kinds of Adult Programs and Events Would You Like to See at Your Library? If you have ideas for things to do, see and learn at your library, don't keep them to yourself…please let us hear from you. Drop a note in our suggestion box at the circulation desk, or email Sarah Trowbridge, Public Services Librarian: saraht@fayettecountyga.gov
Baby Dayzzz: Parenting and Newborn monthly informational group meets on the second Tuesday of each month at 10 a.m. Babies up to six months old are welcome. This group offers support and answers to all your newborn questions during the first month. An educational speaker will present a new topic each month. Sponsored by Piedmont Fayette Hospital and Fayette County Public Library.
*

Users must have Adobe Acrobat Reader® installed on their computer to view or print this file.This is a free download available from the Adobe website.
Can't find time to read? Join the Library's Online Book Clubs and start receiving chapters from popular books in your daily email. Every day, Monday through Friday, we'll send you a portion of a book that takes only five minutes to read. During the week, you'll have a chance to read 2 or 3 chapters, enough to know if it's a book you want to check out from the library and finish. You can read a wide variety of books including fiction, nonfiction, romance, business, teen and mystery books. Read at home, at work, or at school. The Online Book Clubs are a free service of the library. Click on the image below and start making time for reading again.

Questions? Email jkuhr@fayettecountyga.gov
Want to know what's new at your library? Check out our New Arrivals and Popular Picks and also find lists of award-winning titles for adults and children. Click on the image below for Book News: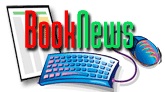 Questions? Email : jkuhr@fayettecountyga.gov
Library Newsletter Sign Up:
Sign up now for your favorite Library Newsletters.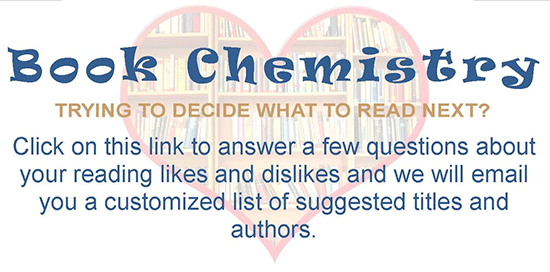 Georgians may now register to vote online:
Contact:
Christeen Snell, Library Director
csnell@fayettecountyga.gov
770.461.8841 Ext. 5333
Christy Dyson, Public Services Librarian
cdyson@fayettecountyga.gov
770.461.8841, Ext. 5345
Jessica Kuhr, Public Services Librarian
jkuhr@fayettecountyga.gov
770.461.8841, ex. 5327
Steve McMinn, Reference Librarian
smcminn@fayettecountyga.gov
770.461.8841 Ext. 5342
Erin Wen, Children's Librarian
ewen@fayettecountyga.gov
770-305-5351
Sarah Trowbridge, Public Services Librarian
saraht@fayettecountyga.gov
770.461.8841 Ext. 5343
The Fayette County Public Library:
provides free access to information, Internet and word processing.
offers outstanding research service.
contains over 139,000 volumes of books, audio CD's, DVD's, newspapers and magazines.
has access to collections of over 280 Georgia libraries in the PINES state network.
Outstanding programming for all ages, includes:
Story times with well-researched, age-appropriate activities for children from birth through 5 years.
Educational Learning Lab for students in grades K-8.
English as a Second Language (ESL) computerized, self-paced courses.
Free concerts and other cultural programs.
Free adult computerized tutorial classes for Microsoft Windows, Word, Excel, Access and PowerPoint. A teacher is present to assist students with these tutorials.
The library's goals are to serve as a role model of excellence in customer service and information delivery for all patrons; and to be utilized as the County's Info Source and as a center for cultural arts for Fayette County.
The Fayette County Public Library is an affiliate of the Flint River Regional Library System. Our mission is to provide: current, high-interest materials and programs; materials and programs for lifelong learning; information-seeking skills training and assistance; awareness of cultural diversity and answers to questions. The library respects the right of every individual to access all library materials freely.