News & Events

NOTICE OF HEARING TO SET 2016 MILLAGE RATES
The Fayette County Board of Commissioners does hereby announce that the 2016 millage rate will be set at a meeting to be held in the Public Meeting Room at the Fayette County Administrative Complex at 140 West Stonewall Avenue in Fayetteville on September 1, 2016 at 10:00 a.m. and pursuant to the requirements of O.C.G.A. Section 48-5-32 does hereby publish the following presentation of the current year's digest and levy, along with the history of the tax digest and levy for the past five years.
View Proposed Rate Schedule
.


2016 PHOTO CONTEST
The Metro Water District Announces the 2016 Water Reflections Photo Contest
DEADLINE FRIDAY, SEPTEMBER 9TH
The Metro Water District is looking for beautiful photographs that promote awareness of the need to protect our shared water resources for its annual photography contest.  . . Full Story
Fayette County Water System named Best of the Best Tasting Tap Water in Georgia
Congratulations to the Fayette County Water System for being awarded the prestigious, "People's Choice: Best of the Best Tasting Tap Water Award" in Georgia at the Georgia Association of Water Professionals (GAWP) Annual Conference in Savannah, Georgia. Fayette County Water System won the award by a "landslide – no questions asked" vote. . .FULL STORY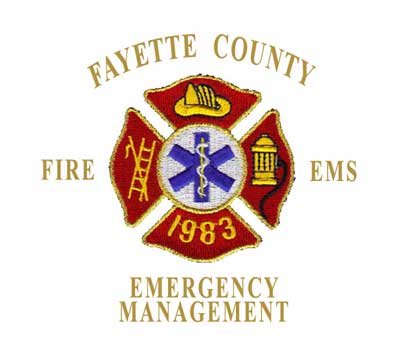 Fayette County Fire & Emergency Services will be hosting its Citizens Fire Academy starting on August 23, 2016. The program will run for 9 consecutive weeks, meeting one night a week (Tuesday) 6:30 p.m.- 9:00 p.m.
Participants will get a behind the scenes look at Fire, EMS and EMA operations. The class size is limited to 15 seats to allow for hands-on training. Special topics to be covered will include:
Department Overview / Tour of 911
Fire Station Tours
CPR / AED / First Aid Training
Fire Safety Education
Bureau of Fire Prevention
EMS Operations
Vehicle Extrication
Breathing Apparatus Drills / Search & Rescue
Emergency Management Information
Ladder Truck Operations
Incident Command
Fire Chief David Scarbrough urges citizens to come and learn more about the Fire Department, Emergency Medical Services and Emergency Management. "This is a great way to meet the men and women of the department and observe what goes into the preparation for 24/7/365 responses".
All participants must be 18 years of age. Participants must live within unincorporated Fayette County or the Towns of Tyrone, Brooks or Woolsey. For information on the Academy please call 770-305-5414. Applications are available by emailing tlackey@fayettecountyga.gov. Click here to view flyer.
MANDATORY BOATER EDUCATION
*Due to an unforeseen scheduling conflict, the date for this class has had to be changed to August 6, 2016 (the following Saturday) at the same location and time. This change will be reflected on the DNR website as well.
The Fayette County Marshal's Office in conjunction with the Georgia Department of Natural Resources will be conducting a Boater Education Class on July 30 at 8:00 am until 5:00 pm at the Fayette County Administrative Complex located at 140 W Stonewall Ave. Fayetteville, GA.
This course satisfies the legal requirements passed in July 2014 that all persons born on or after January 1, 1998 who operate any motorized vessel on the waters of the state must have completed a boat education course approved by the Georgia Department of Natural Resources prior to such operation. This course is also very beneficial to boaters of many skill levels. It covers topics such as different types of boats, safe operation, legal requirements and how to handle emergencies. The following is the link to some general information about the class: http://gadnrle.org/node/42
Sign up can be completed using the Georgia DNR website. Follow the following link: https://www.gooutdoorsgeorgia.com/ . Then select the option Events / Hunter & Boater Classes. Search for the Boater Education Class under the events section using July of 2016 for the date. Then click on the Fayette County Boaters Safety Class and locate or create your customer account to sign up. Walk- ins are welcome also. But, the class will be limited to 30 participants, so those who sign up will be assured of a seat. We look forward to seeing you there!
If there are any questions, please contact Sgt. Lem Miller, Fayette County Marshal's Office, 770-305-5198.
\
Outdoor Burning Ban to Go into Effect May 1, 2016
Fayette County Department of Fire & Emergency Services would like to remind all Fayette County residents that the Georgia Environmental Protection Division (EPD) Open Burning Ban will be in effect May 1 through September 30, 2016. Fayette County is part of 45 surrounding counties that are subject to the open burning ban during the summer months. No outdoor burning will be allowed until the ban is lifted on October 1, 2016. Fayette County Department of Fire and Emergency Services, Fire Chief David J. Scarbrough states, "It is very important for all citizens in Fayette County to follow the burn ban rules and regulations for the health and safety of our citizens during these months." For more information about the ban and safe outdoor burning residents can visit the Fire & Emergency Services "
Outdoor Burning / Permit" page
.