News & Events
ROAD CLOSURES
As of February 2016 the following roads are closed or restricted:
McBride Road between Mask and Old Greenville - This road was washed-out during the December 2015 floods. Fayette County is soliciting bids for pipe replacement and expects work to start in mid-March.
Old Greenville Road, gravel section between Sourwood Trail and McBride Road - The road is restricted to one lane. The Road Department will replace the pipe and rebuild the road to normal width. The work should be complete by mid-March.
Please contact the Road Department at 770-461-3142 for additional information.
Faith-Based Disaster Network Conference
Fayette and Coweta Emergency Management Agencies, with the assistance of the Georgia Department of Public Health District Four office, are holding a joint conference in an effort to build and maintain faith-based volunteer disaster networks in both counties to assist with response and relief efforts. The event will be held on Saturday, February 20th from 9:00 a.m. (Registration begins at 8:30 a.m.) until 1:00 p.m. at Cornerstone United Methodist Church which is located at 2956 Sharpsburg McCollum Rd., Newnan, GA 30265. If you are interested in volunteering, please register for the conference online at https://www.surveymonkey.com/r/TMYNBFY.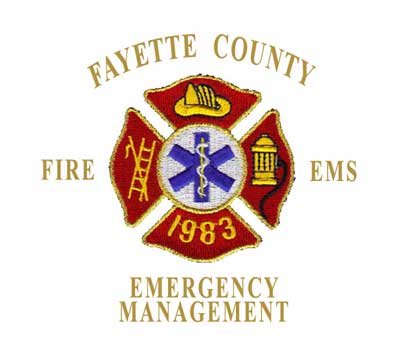 Public Notice
NOTICE: Due to the potential for severe weather, the Statewide Tornado Drill and siren test has been postponed until Friday, February 5th at 9:00 a.m. Please plan your activities accordingly.
The Fayette County Department of Fire and Emergency Services will be conducting a severe weather siren test on Wed Feb 3rd. At approximately 09:00 A.M. Fayette County will sound the sirens as part of this required annual test. This is only a Test!! If severe weather threatens that day the test will be postponed to Friday, Feb. the 5th. This too will only be a test of the system. Please do not call 911 to ask questions. Only call 911 if you have an emergency.
For further severe weather preparedness suggestions, please go to the following websites:
Commissioner David Barlow elected to serve as Chairman of the Fayette County Board of Health
The Fayette County Board of Health, in its special called meeting on Tuesday, January 19, 2016, unanimously voted County Commissioner David Barlow to serve as the Chairman of the Health Board…full story
2015 Fayette County Year in Review Peachtree City Traffic Notice – Spear Road to remain CLOSED to through traffic
Following a summer of excessive rain and two weeks of rain totaling more than 10 inches, a stormwater culvert under Spear Road failed on November 12, causing significant washout of the road itself just inside the City limits of Peachtree City.  City crews made temporary repairs, which allowed the roadway to open to regular traffic the following day.
On November 18, in anticipation of another significant rain event, Peachtree City closed Spear Road at the culvert to ensure public safety should additional damage occur during the storm.  City staff inspected the culvert and roadway following the storm on the morning of November 19.  At that time, additional damage, including holes in the stormwater pipe itself and potential voids under the road bed, were found.  As a result, the bridge will remain closed at the location of the culvert until permanent repairs can be made.
This project was already on the City's list of active stormwater projects prior to the collapse on November 12.  As a result, design work is already completed, and the City has put the project out for an emergency bid that is due November 30.  Council should be able to award the contract on December 3.   Spear Road will remain closed to through traffic at the bridge and culvert until the project has been completed, which is expected to take 30-45 days once the contract has been awarded.
The online burn permit process will only take a few minutes and must be completed before a permit can be issued. Click
here
to apply.
Redwine Road Multi-Use Path Project
Fayette County Emergency Management Agency has the ability to notify citizens in the event of disaster, evacuation notices, boil water notices, missing child reports, etc., through the use of the Code Red mass notification system. Citizens that wish to receive these important messages should click on the Code Red enrollment link and register to receive notification messages through the system. Enroll in this service to stay informed! Standard rates apply and citizens can remove themselves from the system by returning to the link. If you have any questions, please call the Fayette County Emergency Management Agency at 770-305-5400.
Fayette County's Finance Department receives the Government Finance Officers Association's Distinguished Budget Presentation Award
On August 3, 2015 the Government Finance Officers Association of the United States and Canada (GFOA) announced through a press release that Fayette County, Georgia had received the GFOA's Distinguished Budget Presentation Award for its budget.
The award represents a significant achievement by Fayette County. It reflects the commitment of the county's governing body and staff to meeting the highest principles of governmental budgeting. In order to…full story