District Attorney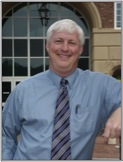 Scott Ballard
District Attorney Griffin Judicial Circuit

Contact Information
Fayette Office Located at:
One Center Drive
P.O. Box 1498
Fayetteville, GA 30214
Office Number: 770.716.4250
Facsimile Number: 770-716-4857
The District Attorney represents the State of Georgia in the trial and appeal of criminal cases in the Superior Court and delinquency cases in the juvenile courts. The District Attorney is the chief prosecuting officer for the State of Georgia within each of the State's 49 judicial circuits.
The Griffin Circuit consists of Fayette, Pike, Spalding and Upson Counties. Each county of the circuit is fully staffed with assistant district attorneys, investigators, victim witness assistance and administrative personnel who assist the District Attorney in carrying out the duties of the office.
Additional information is available at www.dascottballard.com. Please visit our website for hours of operation and specific information on services and answers to your questions.