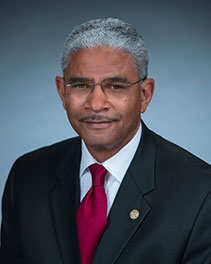 Charles D. Rousseau is serving his first term as commissioner and was elected in September of 2015 to fill an unexpired term for the late Commissioner Pota Coston.  Commissioner Rousseau holds the District 4 seat and his term of office will expire on December 31, 2018.
Commissioner Rousseau is a results-driven executive with over 25 years of diversified governmental, operational and public policy experience; a strong problem-solver with proven ability to manage multi-million dollar budgets and diverse teams to achieve results and foster collaborative outcomes.
As a 22-year resident of Fayette County, he has served on community boards such as the Fayette County Library Board, Fayette County School Board Construction Committee and the Fayette County Race Relations Committee.
Commissioner Rousseau is no stranger to government.  His professional experience includes:
Chief Operating Officer, Arnold Schwarzenegger's Atlanta Chapter of the Inner City Games
Chief Operating Officer, Enrichment Services Program, a regional program servicing six Georgia counties
Assistant Director/Recreation, Fulton County Department of Parks & Recreation
Assistant Director/Design & Development, Fulton County Department of Parks & Recreation
Assistant Director/Administration, Fulton County Department of General Services
Administrative Assistant to Vice-Chair of Fulton County Board of Commissioners
Area Manager of Citizens Advocacy Program, Fulton County Government
Deputy District Director to Los Angeles City Council Member
Charles' mission is to promote quality neighborhoods, adequate public safety services, enhanced recreational amenities, progressive economic development opportunities, and responsible fiscal priorities while being a voice, advocate and servant leader for Fayette County citizens.
Latest Information
Throughout the year GA HOA Alliance and regional partners hosts HOA Boot Camps. These regionals events happen in various locations throughout the Atlanta metropolitan. Typically held on Saturdays, these 4-hour HOA Boot Camps consist of plenary sessions and panel discussions packed with information to empower homeowners and associations alike. Government representatives, elected officials, and industry experts lead panel discussions.